LE JAANA - Himesh Reshammiya, Navraj Hans,Harshdeep Kaur, Asees Kaur Lyrics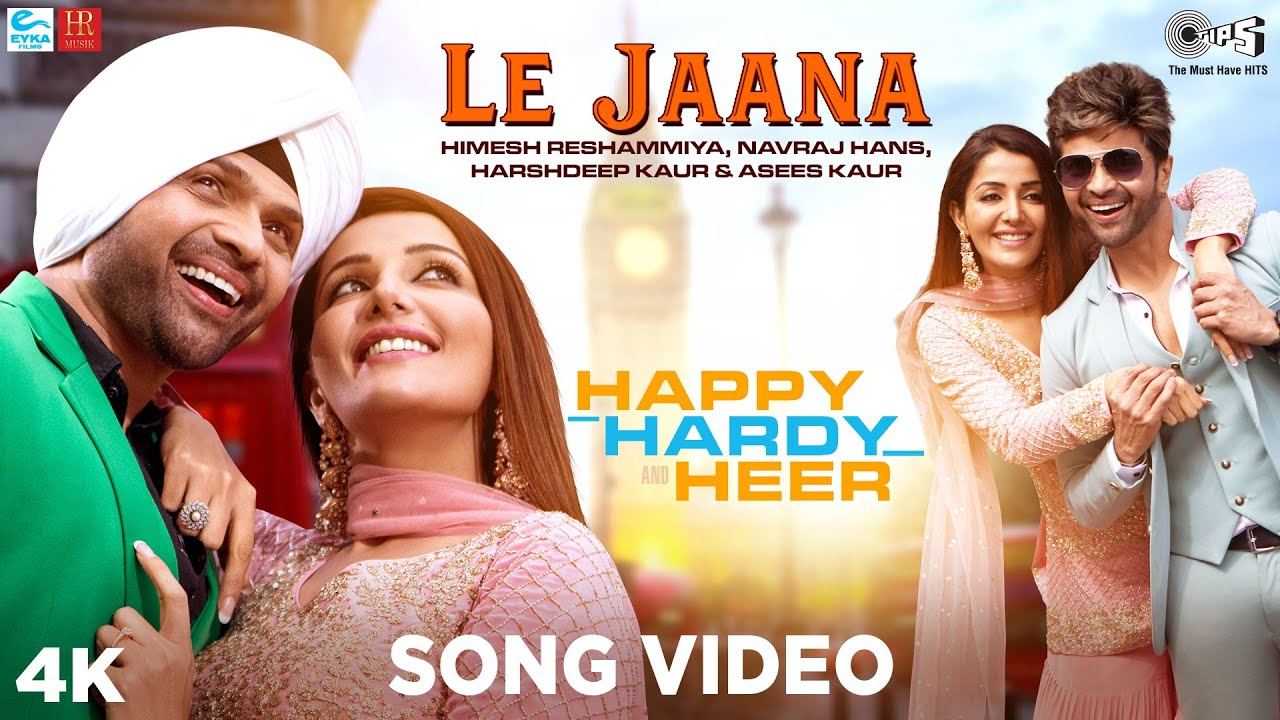 | | |
| --- | --- |
| Singer | Himesh Reshammiya, Navraj Hans,Harshdeep Kaur, Asees Kaur |
| Singer | Himesh Reshammiya |
| Music | Himesh Reshammiya |
| Song Writer | Kumaar |
January 16, 2020 Happy Hardy And Heer


Le Jaana Lyrics from Happy Hardy and Heer is latest Punjabi song sung by Himesh Reshammiya, Navraj Hans, Harshdeep Kaur and Asees Kaur. Lai jaana song lyrics are written by Kumaar.





Le Jaana – Himesh Reshammiya
Shagna wali raat hai
Te dhol gali vich vajjda ve
Taare paande boliyan
Te chand zameen te nachda ve
Sonh rab di lai gaya dil tera sharmana

Le jaana, le jaana
Bai Le jaana, lai jaana
Le jaana, le jaana tainu lai jaana
Le jaana, le jaana tainu lai jaana
Ho le jaana, le jaana tainu le jaana
Le jaana, le jaana tainu le jaana
Le jaana, le jaana tainu
Le jaana, lai jaana

Doli ch bitha ke tainu le jaana
Jag se chura ke tainu le jaana
Doli ch bitha ke tainu le jaana
Ghar tere aake tainu le jaana

Doli ch bitha ke tainu le jaana
Jag se chura ke tainu le jaana
Doli ch bitha ke tainu le jaana
Ghar tere aake tainu le jaana

Shagna wali raat hai
Te dhol gali vich vajjda ve
Taare paande boliyan
Te chand zameen te nachda ve
Sonh rab di lai gaya dil tera sharmana

Mere hathan de vich aaiyan
Teri gori naram kalaiyan
Mainu saare den badhaiyan oh sohniye

Main choodiyan mangwaiyan
Tere ranga vich rangwaiyan
Bas tere layi banwaiyan oh sohniye

Choodiyan pawaa ke tainu le jaana
Apna bana ke tainu le jaana
Doli ch bitha ke tainu le jaana
Ghar tere aake tainu le jaana

Ho le jaana, le jaana
Bai le jaana, le jaana
Le jaana, le jaana tainu le jaana
Le jaana, le jaana tainu le jaana
Ho le jaana, le jaana tainu le jaana
Le jaana, le jaana tainu le jaana

Ho le jaana, le jaana
Tainu le jaana, le jaana
Doli ch bitha ke tainu le jaana
Jag se chura ke tainu le jaana
Doli ch bitha ke tainu le jaana
Ghar tere aake tainu le jaana

Doli ch bitha ke tainu le jaana
Jag se chura ke tainu le jaana
Doli ch bitha ke tainu le jaana
Ghar tere aake tainu le jaana

Mitran meri kismat ve
Tainu jo main paya ae

Shagna wali raat hai
Te dhol gali vich vajjda ve
Taare paande boliyan
Te chand zameen te nachda ve
Sonh rab di le gaya dil tera sharmana



Song Credits:
Singer: Himesh Reshammiya, Navraj Hans, Harshdeep Kaur & Asees Kaur
Music: Himesh Reshammiya
Lyrics: Kumaar
Music Programmer: Aditya Dev
Himesh Reshammiya's Team: Suhas Parab, Subhash Parab, Priyesh Vakil, Pratik Panchal & Barzin Contractor.
Aditya Dev's Music Assistant: Gaurav Singh
Sound Engineers: Salman Shaikh and Anudutt Shamain at HR Musik Studio
Mixed and Mastered by Salman Shaikh at HR Musik Studio.
HR Musik Creative Team: Rajendra Toraskar, Rahul Sheth & Prakash Serrao.
Movie Cast & Crew:
Produced by: Deepshikha Deshmukh, Sabita Manakchand
Directed by: Raka
Story & Music: Himesh Reshammiya
Project & Financial Consultant: Jitendra Patel
Creative Producer: Rakesh Upadhyay
Cast: Himesh Reshammiya,
Sonia Mann, Naresh Suri, Manmeet Singh, Deep Mandeep, Ashwin Dhar, Sejal Shahand and Trupti Khamkar
Screenplay by: Sonia Kapoor
Dialogues by: Bunty Rathore
Executive Producer: Rajendra Bhikaji Toraskar
HR Musik Creative Team: Rahul Sheth and Prakash Serrao
Chief Assistant Director: Manasi Sharma
Associate Director: Adarsh Umesh Hegde
Lyrics: Kumaar, Shabbir Ahmed, Himesh Reshammiya, Vishal Mishra & Aaryan Tiwari
Consulting Producer for HR Musik: MP Singh
Director of Photography: Chandan Kowli
UK producer: Mohaan Nadaar
Production by : The Production Headquarters Ltd
Production Designer: Shashikant Yarolkar
Makeup by: Ganesh V Palav
Editor : Deepak Chandra
Associate Film Editor: Himanshu Mishra
Visual Promotions: Unison Productions
Associate for Promos: Himanshu Mishra
Costume Designer & Stylist: Sonia Kapoor
Choreographer: Raka
Background Score: Himesh Reshammiya
Casting Director: Kunal M Shah (Cast in time)
Visual Effect and DI: Image Devices (I) Pvt Ltd
Publicity Design: Loki's Studio
Sound Design: Jitendra Chaudhary
Publicity Stills: MAAJID KHAN
On Set Stills by Himanshu Sharma